email to mblack@pubnix.net
Tobias Brox on Why Attached Microsoft Documents Are A Bad Thing

"I would rather not go to Canada; how would I an uneducated dark halfbreed look among the fair and accomplished ladies?" wrote Henrietta Ross Black in 1854 in Red River. We should be crying great toxic tears about what was done. Henrietta is in the Museum of History, at least the webiste, but she's also my great, great grandmother.
Don't forget The Montreal Fringe site
See my page about upcoming Montreal used book sales with some other bits of book related notes.
So I'm trying something different this year, or rather going back to the original concept, headlines to distinct pages of news.
Pulse is fun with sweet soul music.
CanadaDance festival June 13-16
Piss in Pool returns to Bain St. Michel June 26-29
Other fest says McAuslan is swell
First Fringe Kid's Day was in 1999
Montreal Improv moves to 1995 Fringe Beer Tent
Stallman says Ubuntu is evil
GlobalTV says travel keeps westislanders away from summer events
former volunteer has cancer, get better soon
Kanawake has a roller derby team now
Dec. 2012: Jeremy Retires, a tribute
Fall 2012: Mike Bordage retires as Fringe GM

I wonder how the sale of McAuslan Breweries will impact the Fringe? RJ Brewers takes full ownership of La Brasserie McAuslan Brewing I was mistaken a few years ago, when I came into the Fringe, it was another beer company, that then suddenly dropped the Fringe about 1999? And then McAuslan became the Big Partner. But apparently they were a sponsor of the Fringe in the early days, something changing before I showed up, or at least took notice. Maybe it's time to try their beer chocolate cake recipe. Some have made a big fuss about the company "owning" the Fringe, but as so many have countered, it's hardly a mega-corporation, and surely Peter McAuslan's place on various board of directors for art and cultural groups is a reflection of his interest, not merely to sell beer.
The Executive Director of the Volunteer Bureau of Montreal says Volunteers are not mere `free labour' (That was in Dec. 2012)
Then in April of 2013, there was another bit about volunteers to the Gazette, Volunteers make the world a better place.
Pat Donnelly mentioned that volunteers are crucial to the Fringe in Winning conditions for anglo theatre, which I'm claiming as a result of my work.
Art Groups spam, and that's the core of the fuss over Theatre St. Catherine. I just sent a letter to the Gazette about it, posted here with a couple of extra links in place.
Some comments on Juried versus non-juried Festivals
The Fringe is now about "discovery", something I wrote about way back in 2003: Festival of Discovery
Don't forget the Bring William Shatner to the Fringe Campaign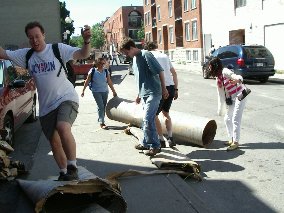 Volunteers hard at work in 2005, putting the Fringe away. It really is lots of fun. I've done it for fourteen years straight, and this will be my 15th. If one of the oldest Fringe Volunteers can do it, so can you.
There's no excuse for a troupe to not have a webpage
see a sample of a simple webpage
List of all the Montreal Fringe shows 1995-2004 here
Check google for Fringe Festival news planetwide
Read Lys Steven's Taking the Leap, about putting on shows. Grab the PDF
Check the forecast here
Be sure to check out The Encyclopedia of Canadian Theatre on the WWW
Thanks to Emmett, Coyote, ComCo and The Diggers